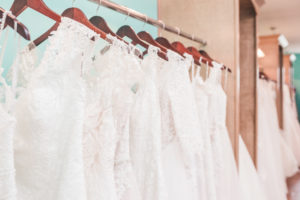 Have a Price In Mind Before Trying on Dresses
If you know you're not going to spend $2,000 on your dress, don't waste time trying on a bunch of wedding dresses out of your range. You're better off zeroing in on your realistic price point so you can spend more time editing down the amazing options you can actually buy. Also, keep in mind that you'll need to factor in the cost of alterations, taxes and possible shipping fees, plus your veil, shoes, lingerie and jewelry, which can add up to $500 or more altogether.
Start Wedding Dress Shopping Early
This is one of the things that surprises everyone. You really need at least six  months on average to get your wedding dress—and that's if you're really decisive. If you're a picky shopper or don't really know what you want, start looking about a year prior before your wedding. Give yourself plenty of time; if you put it off for too long, your selection of dresses could be limited or you might make a quick decision you may regret later. Once you've found your wedding dress, give yourself at least 3 months to have alterations done, says Terry Hall, fashion director at Kleinfeld Bridal in New York City. In total- we suggest to start looking for your wedding dress no earlier than a year away. Have it purchased no later than 9-10 months if possible. If your wedding date is sooner than that- ask if they can sell off the rack ORif there is a "Quick Ship Gown" options. These quick ship gowns are typically stocked in several sizes and colors. They do not cost extra to ship either, where as some stores will have a rush fee. We do not suggest shopping earlier than a year due to styles changing. Most bridal stores will suggest you wait, if your wear date is a year and half or longer. Many lines come out with new designs twice a year. You do not want to purchase your gown too soon and then have buyers remorse when you see the newer gowns being released.
Determine the Dress Code For Your Wedding
You may need to consider religious restrictions when shopping for your wedding dress. For example,if your ceremony is in a house of worship, find out whether there are any attire guidelines you're required to follow, such as covering your shoulders.
Figure Out What You Like
Take cues from your venue, the season and the time of day you're getting married to help narrow down your dress style. Rule out fabrics and silhouettes that won't work (a bulky ball gown is probably not the best fit for a midday beach affair) and consider what styles will flatter your shape. To help you search, go to designers website to  find local retailers that may have the gowns you like. Maggie Sottero's website can also help you find which bridal salons near you carry the actual dress you want to try on. Now you don't have to call to find out. Simply visit www.maggiesottero.com. While on Maggie's site you can also take a bridal quiz and finding out your style before stepping foot into a boutique. Also, our Lancaster Bridal Shop currently has ALL our sample wedding gowns listed on our website that are available for our brides to try on. All of  our brides can preview our inventory ahead of time.  If you love a particular designer, find out if they're having a trunk show in your area—you'll see a larger range of their collection and you might even get a discount (usually about 10 percent). We list our special events under our "In The Community" Tab. Check it out!
Call in Advance
Just because a bridal shop carries your favorite designer doesn't mean they will have gowns in  your price point. We suggest calling the shop directly, before booking, to ensure they have gowns that will fit in your budget and then schedule your appointment.  Keep in mind, many bridal salons require you to book an appointment in order to try on gowns, so you'll want to call ahead. Here at Tiffany's Bridal, we do REQUIRE  an appointment. It's just Tiffany and her pooch, she does her best to accommodate everyone, but is only one person. It is best to call/fill out the appointment request form first. Also, please be courteous as well, please arrive on time.  Do not no-show. Lastly, we kindly ask that one calls within 48 hours or sooner if the appointment cannot be made or needs to be re-scheduled.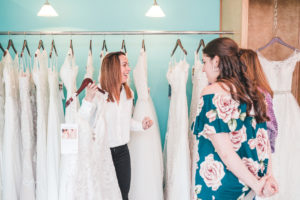 Let our Lancaster Bridal Shop Make Recommendations
Don't eliminate anything at first glance. If the salesperson brings you something she says you should try, try it—even if you don't initially love it or think it's totally "you." It's possible to fall for a wedding dress you didn't think you'd like or want. Not every dress looks great on a hanger, and you might have to let go of some preconceived notions and keep an open mind.
We cannot stress this tip enough!
Shop At the Right Time
Taking a half day off to shop on, say, a Thursday morning is absolutely worth it. Saturday afternoons are the most popular times—which actually makes them the worst.  Consultants are fresher earlier in the day and can give you more of their attention. A calm store means a more personalized shopping experience, Hall says. If you're shopping a sample sale, do yourself a favor and skip the first day. Call ahead to ask how many days the sale will run, then go a little later—there will still be plenty of inventory. Another shopping trick: Don't bring an entourage. It may be tempting to include all your friends in this experience, but any more than one or two adds up to too many clashing opinions.
Buy a Wedding Dress That Fits Now
Even if you're planning on dropping 15 pounds before your wedding, your body type isn't going to completely change. Besides, it's a lot easier (not to mention less expensive) to take a gown in than to try and make a too-small dress work.
Read the Fine Print
When you order your wedding dress from a bridal shop, it's important to triple-check the contract. Read it carefully, so you don't end up with the wrong size or color, and get the designer, style number, measurements, delivery date, the price of the gown and number of fittings, as well as the non-refundable deposit amount, all in writing. Understand that once you order a gown, it is YOURS, even if the wedding is cancelled or re-scheduled.
Bring The Appropriate Accessories
You should come prepared with a nude bra and underwear for the fittings. And try on your other day-of accessories (if you have them), like your veil or jewelry, to get an idea of how your whole look will come together.
Trust Your Instincts
If you have to be reassured that the dress looks great on you, it's probably not "the one." If you can't see yourself walking down the aisle in it, move on. When you find the right dress, you'll know—you won't want to put on anything else. Have some tissues handy; it will be an emotional moment!
Do not let the bridal store OR your entourage, pressure you into purchasing a gown you do not really love. If you need to, take a day or two to think it over and if you can't stop thinking about the dress- it's probably THE ONE!
– from The Knot
Current Wedding Dress Trends
All The Sparkle
Perfect for evening nuptials under the stars, this trend is daring but sophisticated. Pro tip: If you're rocking a gown with lots of sparkle, keep your accessories minimal and let your glitzy frock do all the talking.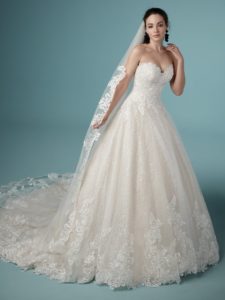 Bold Ball Gowns
If you're looking to make a dramatic entrance, a classic ball gown is for you. Perhaps even combine the two trends like the wedding dress pictured above. "Tristyn" from Maggie Sottero features all over sparkle and the classic ballgown look all in one. You will surely turn heads in a wedding dress like this. Come on in today to try it on.
Flower Power and Boho Chic Vibes
Take a peek at the wedding dress pictured here, "Greenley" by Maggie Sottero . This gown has beautiful floral lace detail with a subtle sparkle. This gown will go great with a long veil or flower crown. It is also available in an A-line version, called "Greenley Lane." We say this dress is a must try when you come into our store for your bridal consultation.