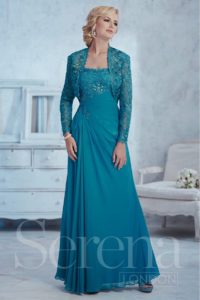 Your daughter is going to look great—that's a given. Now let's focus on you. What's your style? There are lots of options for the modern mom. "It's hard to characterize a 'mother-of-the-bride' dress today," says Marlene Leffell of evening wear designer Daymor Couture. "We see a lot of younger mothers wearing halter dresses with jackets. The jacket makes the dress appropriate for a chapel service, and it can be taken off for the gala dance later. We also dress many mothers in suits and more elaborate dresses."
It has also become acceptable to wear sexy, elegant outfits that show some skin. The general trend: moving away from the traditional styles and towards a more hip look. "The problem is that mothers always put themselves last," says Steve Lang of Mon Cheri, manufacturer of special occasion dresses. "They leave their dress choices until the last minute, and they don't give themselves enough time to get the dress they want." A lot of consulting must be done before ordering your dress. Your dress should complement your daughter's choices for herself and the wedding party, both in color and in formality. Some daughters may envision their mothers in a certain style or shade, so be sure to ask the bride-to-be if she has any opinions about your wedding-day attire. You'll also need to discuss your dress with the mother of the groom, so you'll avoid wearing clashing colors, or worse yet, showing up in the exact same gown.
If your daughter doesn't have her heart set on a particular shade for you, you'll have plenty of choices that will fit her color scheme. Bone, off-white, navy and black remain the most popular mother-of-the-bride shades, while sage green, sienna and pale to bright blues are steadily gaining ground. Black is an especially fashionable choice, especially for ultra-formal evening weddings. "Mothers of the bride can wear black and really glitz it up," Steve Lang says. Only white remains a wedding-day taboo.
Bridal stores usually stock a limited number of sizes and colors in a particular style. That means your dress will most likely have to be special-ordered from the designer and tailored to fit, which will take some time. Unless you're willing to gamble that the style and color you want will be available right off the rack, it's best to start shopping as soon as your daughter has chosen her gown and her attendants' dresses. "Give yourself a lot of time," says Jack Lang of Peak Evenings, a designer of eveningwear and mother-of-the-bride fashions. "You should begin shopping at least six months in advance to really get what you want. This is an important event, and you don't want to have to settle for something that isn't quite right." Lastly, pick a dress that you'll wear again. After the last picture is taken and the last handful of birdseed tossed, you'll still have your dress. If you make the right choice, you'll have a great style that will work for cocktail parties, other weddings or even a nice dinner. "Something simple, like a suit or a gown with a jacket, can be worn more than once," says Jack Lang. If you're aiming for re-wearability and you won't be attending the Oscars or a black-tie fundraiser ball in the foreseeable future, you should keep it simple and versatile. Leffell recommends finding an elegant gown or suit with a long skirt. "People are very price conscious today," she says. "You can always shorten a long suit or gown and wear it again."
To see more from this article click:http://www.brides.com/blogs/aisle-say/2013/03/flattering-mother-of-the-bride-dresses.html
We have a beautiful selection of Mother's Dresses from the line Serena London. To preview these dresses click the following link: https://tiffanysbridalboutique.com/product-category/mothers-dresses