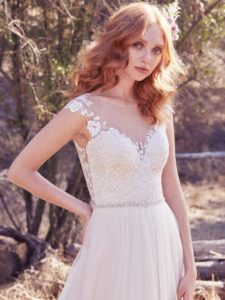 When your wedding venue options are endless — from rustic barns to historic hotels and beachside locales — the hunt to find a place that's perfect for you (and your guest count) can be difficult, to say the least. That's why Cortnie Purdy, a former wedding planner, founded the Venue Report, a site that helps you search for and book the coolest party places on the planet. On the site, you can search by the type of event you're throwing (The bachelorette! A bridal shower! The wedding!), where you'll be celebrating, the style you're looking for, and more. But before you head over to the Venue Report and start clicking and pinning away, listen up.
Purdy is a pro at scouting venues. It's quite literally her job — she travels the world visiting wedding venues, meeting with planners and on-site coordinators, and curating the coolest database ever. (We know, dream gig, right?) Here, she shares her nine insider rules for finding (and booking!) your wedding venue — and reveals what you need to know going in.
1. Think About Location
Decide whether you want to marry close to home or if you want a destination affair that involves more complicated logistics.
2. Set Your Budget First
Knowing what you have to spend helps narrow your initial search.
3. Lock In Your Head Count
Do not fall in love with a place that can't fit your guests. This is one thing a venue can't budge on, no matter how kindly you ask.
Select a season and a few dates that work for you within it. Time of year affects whether you can have an indoor or outdoor event, as well as your bill. (Some venues offer discounted rates in the winter and charge more in the summer.)
5. Visit in Person
It's often the energy of a place that strikes a chord. You can't get that in photos.
6. Meet the Staff
The team behind the venue is as important as the site itself. You want to work with people you like!
7. Get Recommendations
Trust your gut, absolutely, but read online reviews and ask your friends what they know about the places you're considering too. If someone has heard bad things, chances are they're true.
8. Ask Questions
Does the venue have bathrooms? Does it allow open flames? Discuss what's important to you in the beginning because if you don't, it will bother you later on.
9. Put Everything in Writing
When you're ready to book, work up a contract that includes all the tiny details, like permits, the rain plan, set-up fees, et cetera. Nothing should be left up to interpretation.
Information courtesy of:http://www.brides.com/story/steps-to-book-dream-venue?mbid=nl_021817_Weekly&CNDID=40349671&spMailingID=10459032&spUserID=MTMzMTg1ODMyMTgxS0&spJobID=1101441314&spReportId=MTEwMTQ0MTMxNAS2