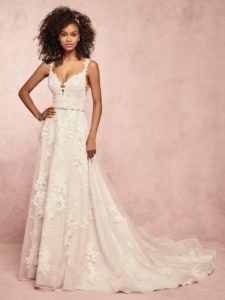 ONLY MAGGIE SOTTERO DESIGNS PRODUCTS PURCHASED DIRECTLY FROM AUTHORIZED MAGGIE SOTTERO, SOTTERO AND MIDGLEY, OR REBECCA INGRAM RETAILERS ARE GUARANTEED TO BE GENUINE MAGGIE SOTTERO DESIGNS PRODUCTS.
Purchasing Maggie Sottero Designs products from unauthorized sources, either on the web or in unauthorized retail locations may involve certain risks including, but not limited to:
The products could be copies, knock-offs, counterfeits or imitations that are certain to be of inferior quality. Only genuine Maggie Sottero Designs products offer the fit, quality and true value for which our company is known.
The gown may not be delivered even though a deposit has been made or the gown has been paid for in full. Maggie Sottero Designs only ships to Authorized Retailers. If an unauthorized retailer offers to order Maggie Sottero Designs products, they are either ordering a counterfeit product or are ordering through unauthorized channels. If Maggie Sottero Designs discovers the supplier of an unauthorized retailer, the supplier is subject to termination. Maggie Sottero Designs can only assist brides in the delivery of their gown if the gown is purchased from an Authorized Maggie Sottero, Sottero and Midgley, or Rebecca Ingram Retailer.
COUNTERFEIT EDUCATION
Counterfeit Maggie Sottero Designs products are being offered on websites (E-commerce), through web auctions, and in unauthorized retail locations. In some cases, suppliers from China claim they produce genuine Maggie Sottero Designs products. These products, however, have proven to be counterfeit and have been the cause of great disappointment and regret.
We at Maggie Sottero Designs hold our Authorized Retailers to the highest standards of customer service and respect. While our Authorized Retailers are free to set their own prices, bear in mind that if the price of a product labeled as Maggie Sottero Designs is significantly below the prices generally prevailing in the market, it is highly likely the product is counterfeit or not being sold through legitimate channels. For your security, please visit the Store locator page to find an Authorized Maggie Sottero Designs Retailer.
To find a store retailer other than us, or for more information regarding Maggie Sottero Gowns please click this link: https://www.maggiesottero.com/find-a-store